Analog Synthesizer for the Masses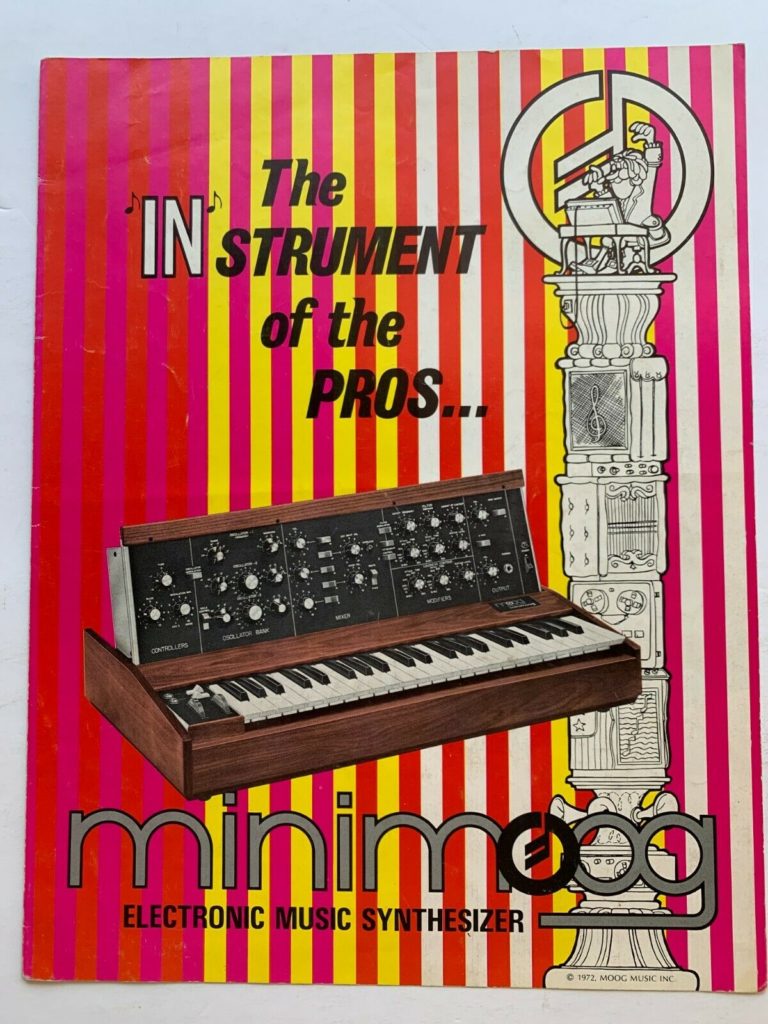 Moog has a long, storied history of creating some of the most iconic analog synthesizers of all time. One of their most well-known creations is the Minimoog Model D. Originally released in 1970, the Moog Model D was the first compact synthesizer ever released. Prior to its release, synthesizers were monumental modular behemoths that were almost impossible for a layman to use. The Minimoog Model D changed all of that with its easy and functional layout. Minimoogs are famous for having 'no bad settings,' meaning wherever you turn the knobs you'll find a usable, unique and characteristically quirky sound.
The Minimoog has been used on countless classic recordings by everyone from Bernie Worrell of Parliament-Funkadelic to Gary Numan, Kraftwerk, Dr. Dre, Herbie Hancock, Trent Reznor, Kevin Parker, Depeche Mode, Mac Miller, Vangelis, Jack Antonoff and many many more.
Moog Vintage, Voyager and Reissue
A vintage 1970s Minimoog Model D is a beautiful sight to behold, but currently sells for between $5,000 and $8,000 used. Moog reissued the Model D in 2016. According to Reverb.com, these reissues sold consistently on the used market for around $3,000 but as of 2022 they are even more expensive than the original 1970s units, sometimes fetching as much as $9,000.
Other options produced by Moog include the MiniMoog Voyager and MiniMoog Voyager XL.
The Voyager was designed by Moog Music as a tribute to the classic Minimoog Model D. The original Minimoog was discontinued in 1981. In 2002, the company released the Minimoog Voyager. The Voyager was discontinued in 2015.
The Voyager features three oscillators, a noise generator, a mixer, a low pass filter, a high pass filter, and an audio amplifier. It features a 61-note keyboard with velocity and aftertouch. The synthesizer features a 49-note ribbon controller and a CV/Gate output. It also features a MIDI input, MIDI output, and MIDI thru. The Voyager is available in several models including the Voyager, Voyager Select, Voyager Performer, Voyager Old School, and Voyager Rack Mount.
Budget Reproductions
Behringer Model-D
The Behringer Model-D, released in 2016 is a faithful reproduction of the Minimoog Model D in a compact, Eurorack compatible format. Priced at approximately $300, the Model D is the simplest budget-friendly choice for anyone who wants a hardware Minimoog.
The Model D is a great choice for anyone looking for an affordable and easy-to-use analog synthesizer. It is also a great choice for those who want to expand their modular setup with a CV-compatible synth.
The Model D is a true analog synthesizer featuring a pure analog signal path based on authentic VCO, VCF, VCA, and ladder filter designs. The Model D also features a dedicated and fully analog triangle/square wave LFO. The Model D is a semi-modular synthesizer: some audio and CV signals are available via patch cables. It is a monophonic synthesizer with three VCOs that can generate sawtooth, triangle, and square/pulse waveforms. The VCO can be modulated by the LFO, envelope generators, and the keyboard. The Model D has a 24 dB/octave low-pass filter with resonance. The filter can be modulated by the LFO, envelope generators, and the keyboard. The Model D has two envelope generators. The envelope generators can be used to modulate the VCA, VCF, and the pitch of the VCO. The Model D has a noise generator that can be used to modulate the VCF. The Model D has a ring modulator that can be used to modulate the VCO. The Model D has a MIDI input and a MIDI output. The Model D can be powered by a 9V DC power adapter.
Semi-modular design completely negates the need for patching
Raw power and affordability 
Ergonomic front panel interface 
Capable of producing everything from fat bass pulses to smooth pads and blistering leads 
Simulations of traditional instruments, including brass, strings, and woodwinds
Roland SE-02
Roland's answer to the MiniMoog is the SE-02, released as part of their Boutique Synthesizer series which includes faithful reproductions of some of their classic synths like the Juno-160 and the TR-808. Fully analog, the SE-02 comes in at around $450 new. While it is pricier than its Behringer competition, it cannot be denied that Roland is renowned for their robust and sturdy gear which seems to last for decades without breaking. Behringer, on the other hand, does not have a reputation for making robust gear. The Roland Boutique modules can be used with a K-25m keyboard (sold separately) which negates the need for MIDI keyboards or other connections.
The Roland SE-02 analog synthesizer module is packed with three voltage-controlled oscillators, each with its own sub-oscillator. The oscillators are temperature-stabilized with automatic tuning to keep them from drifting. The sub-oscillators are square wave only, but the main oscillators can generate sawtooth, square, and triangle waves. The oscillators can be synced together for thick, rich tones.
GuinGuin MME
The MME is a great sounding synth voice that gives you the classic Minimoog sound with added features and flexibility. The MME is based on the circuits of the original Moog Minimoog. It has all of the features of the original plus extras to boot. AS with any faithful Minimoog reproduction, you get three epic-sounding oscillators, a noise generator, a mixer, a ladder filter, and two envelopes.
If you are interested in the classic sound and functionality of the MiniMoog in Eurorack format and love to solder, the GuinGuin MME is probably right up your alley. The MME is 55€ for the PCBs, PCBs + panel set costs 120€ and with the rare parts for 145€.
Eurorack compatible Minimoog clone
DIY Project that must be soldered
Three oscillators
Noise Generator
Mixer
Ladder Filter
2 Envelopes
Soundforce SFC-Mini Minimoog Software Controller
The Soundforce SFC-Mini Software Controller has the precise look and feel of all the classic hardware Minimoog buttons, knobs and sliders. But it's actually a USB controller that can be used in conjunction with Arturia's Mini-V software instrument, Native Instruments Monark plugins and G-Force Minimonsta. Available in a myriad of colors, the SFC-Mini is a sleek, affordable and lightweight option for achieving the tactile feel of playing with a vintage synth but without the hassle of dealing with heavy and potentially fragile hardware.
Behringer Poly D
Behringer's Poly D is the Minimoog that never was. Based on the classic design of the monophonic Minimoog, the Poly-D offers four voices of polyphony so that you can use the classic Model D sound to create rich chords. In addition, the Model D offers a host of other features like onboard effects such as Chorus and Distortion.
Additionally, the Poly D has a built-in sequencer and arpeggiator. Unlike the Model D, the Poly D includes a keyboard, so it can work as a standalone unit without any external gear. It comes housed in a wooden chassis that screams of vintage vibes.
Softwar​​e Emulations (VST/AU)
​​Moog MiniMoog Model D App
Once Moog discontinued production of its Model D reissue, they released their extremely affordable Model D iOS app.
The app makes creativity easy and intuitive, especially compared to other synth apps which have too much going on, or aren't very visually appealing. Minimoog Model D has editing controls made specifically with finger control in mind
You can't edit the presets that come with the app unless you buy them from Moog, who charges $0.99 for each and $4.99 for a package of 8 presets. Presets are grouped into categories like Lead, Bass, Percussion, and more, which is useful if you want to find a sound you need quick, and no doubt about it, Minimoog's presets are professional quality.
The app is also IAP-friendly, offering presets, sound sample and loop packs, optional in-app recording, and more to expand its capabilities. Through it all, there's a gentle hiss like the vintage synths of old. But it doesn't sound cheap; it has a modern minute or so delay and a stereo looper. More detailed settings include the "LFO deepening the modulation" slider, a slide-off button, as well as other modulation routings. The interface itself is easy to read and highly intuitive, with a pseudo-tactile feedback to the physical control sliders and buttons. It is designed to look like a "supermodel" style analog synth, and the graphic interface manages to capture the essential functions and minimal aesthetics of Moog's classic hardware instruments. Minimoog Model D is great for beginners, as well as analog-style synth addicts and advanced players who want a classic sound.
To sum it all up, if you want to take the plunge and create a cheap, yet totally usable analog synth that sounds great and is easy to use, the Minimoog Model D App is the synth for you.
Arturia Mini V
The Mini V uses digital technology to recreate the sound of an analog synth. The Mini V uses the same proprietary technology found in other Arturia products. This is a very powerful synthesis technique that allows you to create sounds that are impossible with other types of synthesis. The Mini V features everything you'd expect from a Minimoog emulator but also has quite a few added features.
The Mini V has an arpeggiator, which is a powerful tool for creating musical phrases. The arpeggiator can be set to play up to 8 notes at a time, and can be set to play in a variety of different modes, including up, down, up/down, and random. The arpeggiator can also be set to play in a variety of different rhythms, including quarter notes, eighth notes, triplets, and sixteenth notes. The arpeggiator can also be set to play in a variety of different speeds, from very slow to very fast. Unlike the original,the Mini V also has a built-in effects processor. The effects processor can be used to add reverb, delay, chorus, and flanging to your sounds.
GForce MiniMonsta
A compelling software model of the legendary Minimoog, the GForce MiniMonsta boasts all of the features you'd come to expect: 3 oscillators and the 4-pole 24dB/octave filter. The MiniMonsta is fully programmable and is included with 6000 factory presets. For fans of Prog Rock, you may be excited to learn that Rick Wakeman of Yes fame designed many of these patches.
Unlike the original Minimoog which is decidedly monophonic, the MiniMonsta is capable of polyphony and has additional LFO & ADSR for modulation of almost every parameter.
Native Instruments Monark
The Native Instruments Monark is a synth plugin. It is a faithful recreation of the Moog Minimoog, a classic synth. It adds a few extra things including an on-board effects rack that is setup for delay, chorus, and phaser. The filter has 4 different sorting options: 36dB LP, 18dB LP, 36dB HP, and 18dB HP. Monark's only saving grace is in its ability to sync to tempo. Other than that the plugin is not very flexible. That being said, it captures the monophonic, bass sound like no other plugin can. It is such a unique sound it is hard to describe. It is warm and slightly garbled, but it is still clear as day. The plugin goes for $99, but is also included in Komplete 9, Komplete 9 Ultimate, and Maschine 2.0.
Synapse: The Legend
The Legend (VST/AU/Reason Rack Extension) is the Minimoog Model D made new again by a developer with a reputation for greatness in oscillator and filter modelling, two absolutely essential components in recreating any analog synth.
The Legend features extremely accurate software emulation, even factoring in external conditions such as temperature and the influence of the power supply on the circuitry. Some extra bells and whistles have even been added that the original lacks including built-in effects like delay and reverb.
As with some of the other VST offerings, The Legend allows for polyphony with either four notes, or Unison, with one monophonic note comprised of four stacked unison pitches.
In Conclusion
Today it's easier than ever to get the classic sound of the Minimoog at almost any budget. From low-priced iOS apps to VST plugins, budget-friendly reproductions, and hardware units heavily inspired by the original, there are a plethora of options available and something that's sure to appease even the toughest of critics.